Criminal Defense Attorney in Omaha
Arrests & Criminal Charges in Nebraska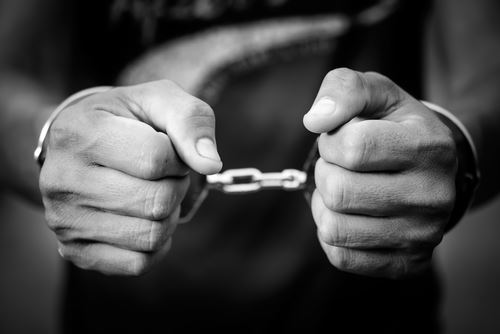 ​If you or someone you love has been arrested or charged with a crime, it's important that you act quickly to protect your rights. At Carlson & Blakeman, LLP, our experienced Omaha criminal defense attorneys are ready to defend you against all types of charges, from misdemeanor offenses to serious felonies and violent crimes. We can immediately begin reviewing the available evidence and developing a powerful legal strategy to minimize penalties, achieve a not-guilty verdict, or even have your charges dropped.
Every situation is different, but it is always important that you have a skilled legal team by your side if you have been accused of any type of crime. Having an experienced attorney to fight for you and represent you is important for ensuring that you have all of the legal support and guidance that you need during this difficult time. We encourage you to reach out to our firm today to learn how our attorneys can defend your rights, your freedom, and your future.
Call (402) 858-0996 or contact us online using our secure contact form. Your initial consultation is completely free and entirely confidential.
Understanding Your Rights
When you are stopped by the police, one of the most important things you can do to protect yourself is to understand and exercise your rights. All people, including Americans and non-citizens, have certain rights in the United States; knowing and asserting these rights during and after an arrest could be critical to the outcome of your case.
Below, we have provided a brief overview of your fundamental rights when dealing with law enforcement officials and other authorities:
The Right to Remain Silent: You have the right to remain silent, meaning you do not need to speak to any arresting officer or other official other than to identify yourself. While you should be cooperative with the police, you do not need to provide any additional information beyond your name. In fact, the less you say, the better. Anything you say can be used against you, and law enforcement officials may take something you said during your arrest or afterward as evidence of your guilt.
The Right to Be Free of Unreasonable Search and Seizure: You do not have to consent to a search of your personal property, including your vehicle or home. However, law enforcement officials are permitted to pat you down if they suspect that you have a weapon. You should comply with the police during a routine pat down but know that you do not have to allow the police to look inside your car, go through your yard or home, or take any personal items without a signed warrant.
The Right to an Attorney: If you are arrested by the police, charged with a crime, or simply put under investigation, you have the right to an attorney. If you cannot afford a private practice criminal defense lawyer, the court will appoint a public defender to represent you in criminal proceedings. You also have the right to call a lawyer while in jail, and the police cannot listen to your phone call if you speak to an attorney. Note that they can—and often will—listen to any phone calls you make to others.
The Right to Not Respond to Questions About Citizenship: As part of your right to remain silent, you have the right to not respond to any questions about your citizenship or lawful permanent resident/immigration status. This includes questions about where you were born or how you entered the United States. Note that this does not apply when you are being questioned by an officer at an international border or airport. Additionally, if you are on a certain nonimmigrant visa, such as a tourist visa or business visa, you may need to comply with an officer's questions.
If you are detained, you should state that you do not wish to speak and ask for a lawyer right away. Then, stay silent. You can reduce risk by complying with police officers, but do not speak and do not sign anything until you have contacted an attorney.
Types of Criminal Cases We Handle
At Carlson & Blakeman, LLP, our Omaha criminal defense attorneys represent clients facing all types of serious criminal accusations. We have a strong track record of success and have helped many people successfully secure not-guilty verdicts, reduce their penalties, or have their charges dismissed.
We handle a full range of criminal defense cases, including but not limited to cases involving:
Arson
Assault
Battery
Burglary
Domestic violence
Driving under the influence of alcohol or drugs (DUI)
Drug offenses, including possession
Financial crimes
Fraud
Homicide
Murder
Robbery
Sex crimes
Shoplifting
Theft crimes
Traffic violations
Violent crimes
White collar crimes
Whether you are facing misdemeanor charges or someone you love has been arrested for a felony, our firm is ready to help. We act quickly to protect our clients' rights and are prepared to use our extensive experience, resources, and reputation to your advantage.
Legal Services For Marijuana Charges
Drug charges, specifically involving marijuana, are some of the most common cases we deal with. We can help you in any situation. Below are the charges you could face in Nebraska.
Possession: There are a few different levels of possession. One ounce or less would be an infraction with a maximum fine of $300. Multiple offenses are misdemeanors and would have higher maximum fines and potential for a few days of incarceration. Between one ounce and a pound is also a misdemeanor, with the potential for up to three months of incarceration. Over a pound is a felony, and you will potentially be facing years in prison or thousands of dollars in fines.
Sale/Manufacture: Any amount of selling marijuana is a felony. In Nebraska, depending on the circumstances, you could be tried for life for multiple offenses.
Hash/Concentrates: Any amount of hash or concentrates is a felony. For possession alone, you could face up to 5 years in prison and $10,000 in fines. Selling it can land you 20 years in prison and up to $25,000 in fines.
Paraphernalia: Possession of paraphernalia is a small infraction. You might have to pay up to $100.
This is not an extensive list of everything the court may decide. It's very important you speak to a lawyer as soon as you can.
How Can A Criminal Defense Attorney in Omaha Help You?
A criminal defense attorney will be able to guide you through each step of the way and will fight to protect your rights and your future.
A criminal defense attorney will help you by:
Providing you with objective legal advice: A criminal defense attorney will be there to answer all of your questions. Your attorney will provide you with legal guidance that will help you know whether it's in your best interest to accept a plea or go to trial and whether you should testify.
Offering emotional support: We understand how difficult and traumatic it may be to be arrested. Having a reputable lawyer by your side who knows the ins and outs of the legal system can help to offer you the psychological support and emotional reassurance that you need. Without a lawyer, you may be risking your future and your reputation.
Protecting your future: Your attorney will be by your side to guide and support you through every step of the process. Having an attorney by your side will help ensure that you don't make any mistakes that can cost you your future or your reputation.
Evaluating your charges and evidence: Your lawyer will be responsible for thoroughly investigating your charges, as well as evaluating the evidence that you have. He or she will inform you of the realities of the matter and will advise you on what steps you should take next to protect your future. Your criminal defense lawyer will also be able to collect the evidence that you need to effectively support your case.
Creating a strong defense case and strategy: Although our attorneys have worked with many other individuals facing a similar struggle to you, we understand that each case is unique. That is why creating a defense strategy for you is so important. Your lawyer will go above and beyond to protect your rights and will recommend the best route to take for your case moving forward.
Representing you in a trial: If your case gets taken to court, your attorney will be there to represent you. Your criminal defense lawyer will negotiate sentencing or alternative sentencing options. Having an experienced attorney to represent you in court is essential for protecting your future.
Why Hire Carlson & Blakeman, LLP?
Being arrested or charged with a crime is a frightening experience. Having the right legal team by your side can empower you to assert your rights and fight back against criminal accusations.
At Carlson & Blakeman, LLP, we offer aggressive legal representation for those under investigation or facing charges for all types of state and federal offenses. Our team understands the law and how to use it to your advantage; we work directly with our clients to develop powerful, personalized legal strategies tailored to each unique situation. Throughout the process, we will be there to answer your questions and provide the information you need to feel empowered about moving forward with your case.
Our firm is proud to offer:
Dedicated, client-focused legal representation
Custom defense strategies tailored to each individual situation
Aggressive advocacy in and out of the courtroom
Complimentary consultations and case evaluations
Same-day and weekend appointments by request
Legal services in English and Spanish
Our team has what it takes to protect your rights and advocate for the best possible outcome in your case.
Whether you are under investigation or have already been arrested, we can discuss your situation with you today during a no-cost, no-obligation consultation.